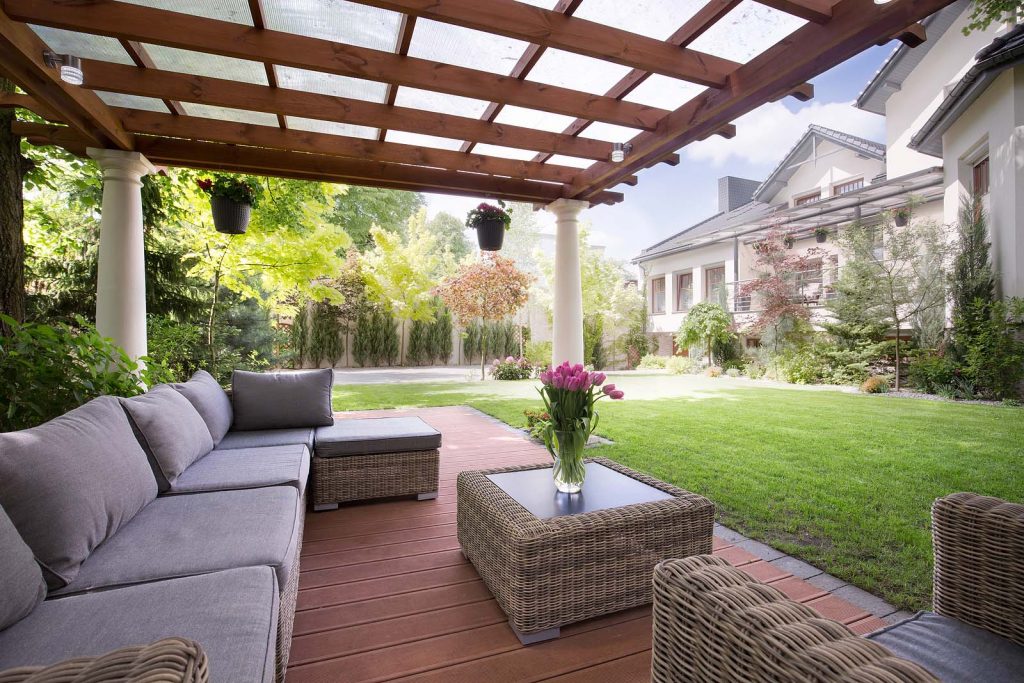 Features You Can Add to Upgrade Your Deck
One of the most cost-effective home improvement projects homeowners can do is the addition of a deck. It is one of the few additions that has a high return on investment should you decide to sell your home.
You can ensure you're getting the most from this smart investment with low-cost add-ons and special features that increase your deck's appeal, and that will make your deck one of your home's most enjoyable living spaces.
Hidden Fasteners for Decking
For years deck screws have been the preferred method for fastening deck boards together. They come in a variety of colors that blend in with various decking materials, don't corrode, and secure boards extremely well. But, even with all of these benefits deck screws can develop splintered edges and trap dirt.
Hidden deck fasteners are a great alternative to deck screws because they hold deck planks down without being seen and leaving the deck surface looking sleek. There are plenty of deck fastener options available to match all the different types of decking materials. Hidden deck fasteners fall into three categories. One category fastens to the framing of the deck with a screw and grips the side of each plank. Another one fits into a groove in the side of the plank and is then fastened to the joist. And yet another type fastens from underneath the deck securing the decking onto the joists.
Installing hidden fasteners is extremely labor intensive so they are more expensive than deck screws. Although they may cost a bit extra many homeowners find that they are well worth the investment especially if you want your deck to have a seamless appearance. Tiger Claw hidden deck fasteners are a uniquely designed fastener that enhances the appearance of wood and is designed to install faster and easier than other fasteners.
Add a Sense of Flair with Planters
Give your deck character with planters. There are various shapes and sizes of planters that you can add to your deck to give it some color and quality. You can have built-in versions of planters that are often made of the same material as the decking and can be used as a way to separate certain areas of the deck from others. Built-in planters will need some means of drainage which means you will have to drill holes in the bottom of the container and any excess water will drain out the bottom of your planter. Along with planters there are also ceramic or cement pots that can be decorated in any fashion.
Make Your Deck More Visually Appealing with Cable or Glass Railings
Any deck that is more than 2 feet above ground is required to have railing in order to be considered up to code and safe but that doesn't mean that if your deck falls below 2 feet you can't add railing to your home for aesthetic appeal. There are many types of railing options available and one great railing type is cable railing. It is a thin stainless steel cable strung between wood or metal posts. Cable railings will also allow you to keep an amazing view of your landscape.
Another great option to keep your breath taking view is glass railings.  Glass railing, like Invisirail, is a low-maintenance railing that will not degrade over time and will protect you from your environment while lasting throughout all season types. It is easy to install and a perfect option for those who live near windy places like the ocean or open areas.
Shield Yourself From Harsh Rays With an Awning or Shade Sail
If you live in an area that gets a lot of sun then overhead structures like awnings can help shield your deck from the sun but they can be pretty expensive to install. Another alternative that is more eye-catching are shade sails. They are a UV-resistant polyethylene knit fabric that comes in a variety of colors. They provide shade by cutting the glare of sunlight while still letting a little light in. They not only provide shade they are also an aesthetically pleasing feature that many homeowners enjoy watching as they rise and fall in the breeze. Since shade sails are attached to the framing of your home it is highly recommended that you hire a professional to install it for you.
So if you've been looking at your deck for a while and feeling like a change is needed here are three ways you can easily upgrade your deck and make it look brand new.