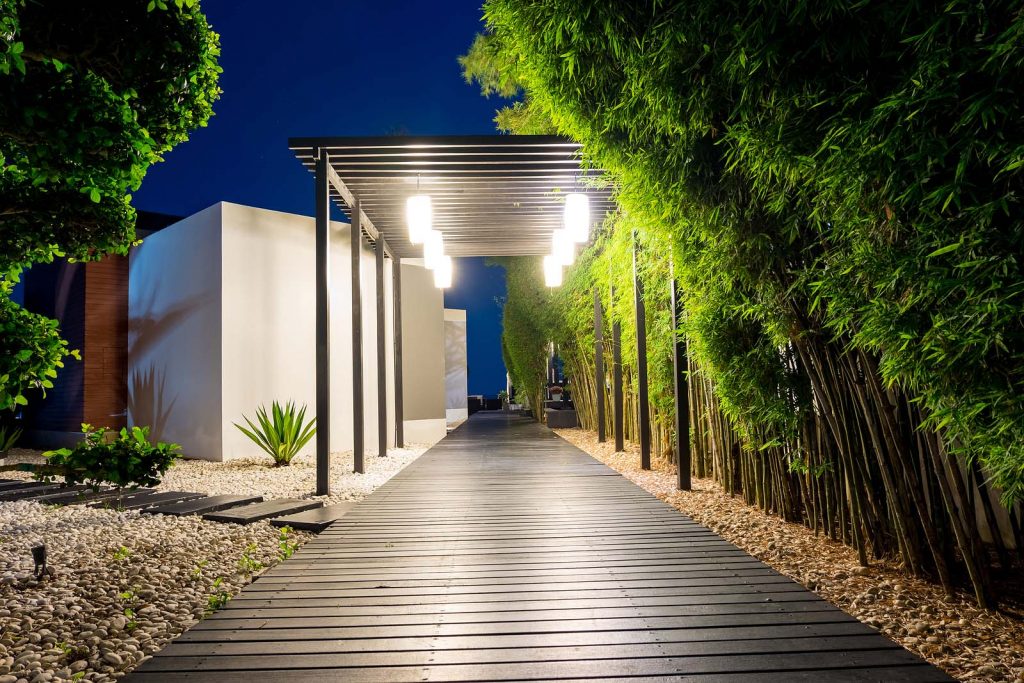 Great Outdoor Lighting Techniques For Your Deck
After all the hard work you put into designing and building your deck you should be able to enjoy its beauty all day and well after the sun goes down. Which is why there are tons of options available like outdoor lighting that can help you be able to entertain your guests for as long as you like as well as just relax on your deck on those nights when the weather is beautiful without having to sit in the dark. Outdoor lighting can also help you bring attention to specific parts of your deck or can be used to illuminate your entire deck. Before making your choice as to which outdoor lighting option is best for you, you should ask yourself, "What is your reason for adding lights?" Is it to increase the safety and security of your deck, to allow you to use it for a longer amount of time, or simply for aesthetic reasons? There is no wrong answer and these are all good reasons to add exterior lights.
Three Basic Lighting Techniques
There are three basic lighting techniques that are used when installing outdoor lighting and they are; uplighting, downlighting and transverse lighting. Each of these terms refers to a specific placement of your light source in relation to the object you want to be highlighted by the light. Using an uplighting technique, the light will be placed below your subject so the light is cast up like with deck board lights that are placed directly into your decking boards. With downlighting the light is placed above the subject and is cast down. Just like when you're walking under a street lamp and it casts light on you from above. Transverse lighting is when the light is simply placed across from the subject. Using table lamps or adding candles to specific areas is the most common way of doing this technique. If you don't know exactly what basic lighting technique you want to use don't feel like you have to narrow it down to one option because you can, in fact, use all three techniques if you like.
What Lighting Techniques Are There?
Some other well-known and useful lighting techniques that can be used to help illuminate your deck are:
Spotlighting.

Spotlighting gives you the ability to draw attention to a particular item, structure, or area that you want and uses a single beam that can be easily installed.

Tree Lighting or Moonlighting.

These are techniques that cast light either upwards illuminating the tree or downwards through the branches to create a moonlighting effect.

Silhouetting.

This technique involves placing a light directly in front of the object you want to illuminate casting a shadow. It is most often used during the holidays as an addition to outdoor decorating.

Security Lighting.

The goal of security lighting isn't really to illuminate any attractive areas of your backyard. It is meant to catch lurkers or intruders who may hide in areas where your deck lighting may not reach and try to gain access to your home.

Grazing.

This technique is used to show off the texture of the item being highlighted. If you have a deck with an interesting

railing

design like

Fortress

railing this is a great technique to use to show off its features. You can think of this technique as your deck's way of holding a flashlight under your face like when you tell ghost stories in the dark.

Path Lighting or Spread Lighting.

These techniques are most commonly used to illuminate walkways and certain features of the landscape around your deck. The lights used are partially shielded so they are not as intense as regular lighting and highlights only a small area. Great lighting options for this are

Aurora Deck Lighting

products

like

Polaris

that is a solar powered lighting option that adds lights to the

post caps

that sit on top of your deck railing.
If you find yourself a bit overwhelmed with all the techniques available for you to use then you can simply go to your local home improvement store and speak with an associate there that will more than likely be able to help you find the best lighting technique for you and your deck. When used correctly all of these techniques can cause a dramatic difference to your deck and make it that much more fun to get out and enjoy your deck well into the late hours of the night. Some lights can even be installed with dimmers and timers so you can create the perfect mood you're looking for once the sun goes down.