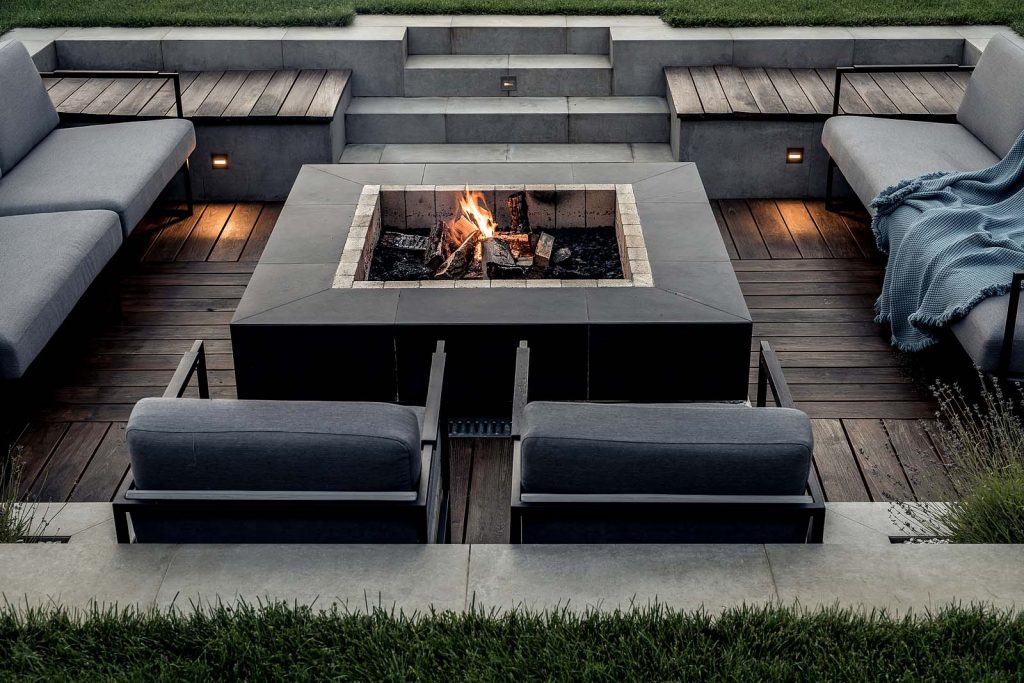 How to Add a Fire Pit to Your Deck
Sitting around the fire is a tradition that goes back farther than we can trace and it's a tradition that's stuck throughout the years for many reasons. One simple reason is that sitting by the fire is just a relaxing feeling. Combat chilly weather by spending evenings gathered around the fire with family and friends. Thanks to fire pits becoming more common and popular people are no longer having to wait to go camping in order to enjoy a fire at night.
Adding a Fire Pit to Your Deck
Designing a fire pit to add to your backyard is pretty simple and an inexpensive project that you will be able to enjoy for seasons to come. You can add a simple fire pit to your deck or go all out and make it a complex, eye-appealing project. The type of fire pit you add to your deck depends on your wallet size as well as your skill level. Here are some things to consider when you are deciding to start your fire pit project:
Check for any local ordinances or building codes that are related to open flames or fire pits in your area. Make sure you thoroughly understand any limitations there are before you start building so you don't find yourself in trouble for breaking any codes down the road.

When determining the best spot for your fire pit you should take into consideration how close any location is to trees, structures, and your neighbors. Some building regulations state a specific distance from structures or property lines that fire pits must be so take those into consideration as well.

Make sure the material you use for your fire pit is suitable for the amount of heat it will have to endure. Concrete is one of the most ideal materials because it can stand high temperatures and can be formed into uniform sizes and shapes.

The best size for a fire pit is between three and four feet across which allows a fire to be large enough to warm up an entire area yet small enough to allow your guests to easily walk around your deck without being near any intense flames.

Make sure that whatever decking material you have is strong and durable enough to withstand the weight of a fire pit before adding one. A great example of strong deck material that is perfect for holding a fire pit is hardwood like Red Balau

since it is extremely sturdy and fire resistant.

When you start to dig out your pit keep the sides of the holes perpendicular to the ground. A pit about a foot deep is  good size and to make sure you have good drainage you should fill the first 6 inches of your fire pit with gravel.

If you are using bricks to build your pit and they will be above ground a good idea is to leave a few narrow air gaps in between the stones of each layer, which provides places for the fire to draw air in and keep burning.

When laying your brick down you can use mortar or adhesives but when it comes time to repair or replace any broken bricks it is easier to do that if you dry lay your bricks, which means laying bricks without using any type of adhesive.
How to Stay Safe When Adding a Fire Pit
Many city and county codes require that any open flames on a deck cannot be within 20 feet of your home and for good reason. All it takes is one stray ember to ignite a fire that can not only destroy your deck but can spread to damage both your home and the homes of others. If you choose to use a fire pit on your deck and have checked all the codes and regulations involved then the best choice for safety is a gas fire pit that is designed to be used on a deck. You can buy one already made, build one yourself, or hire a professional to build one for you if you don't feel completely comfortable doing it on your own.
Once you have your fire pit all set up and in place, remember there's always more you can do to set up the perfect atmosphere around your pit. You can install lighting around your fire pit or leading up to it on your post caps. Solar lighting like Aurora Lighting is the best option since they use little energy and are good through all weather changes. Along with lights you can outfit your fire pit with accessories like speakers, iPod dock holders, and more making your deck the perfect place to spend your evenings.