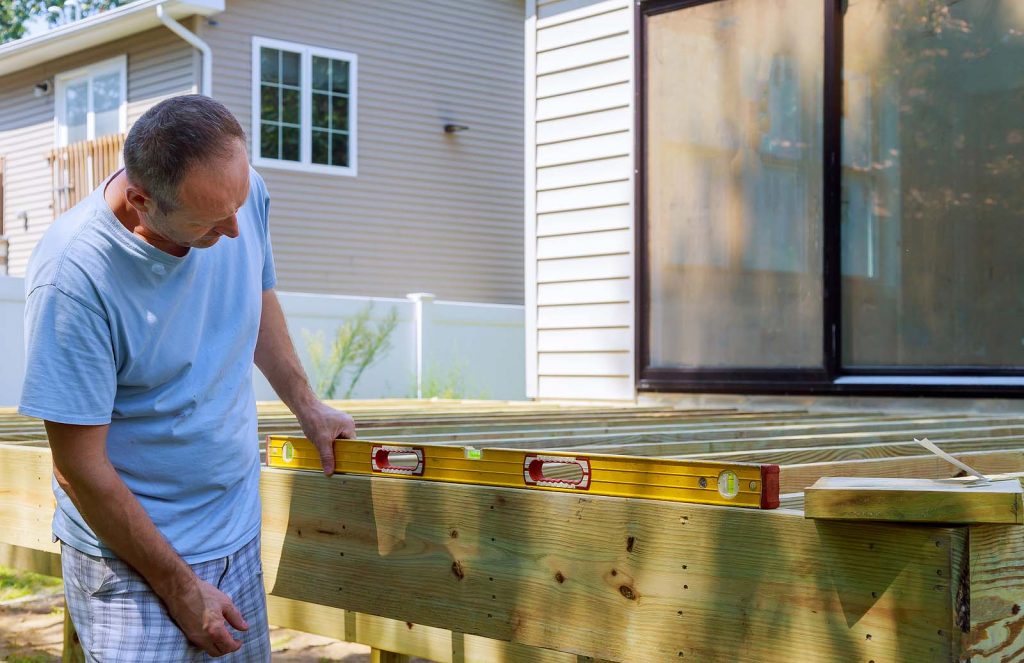 Should I Build A Deck By Myself?
Many homeowners ask themselves at some point "Should I add a deck to my backyard?" and the answer is of course you should. The real question you should be asking is should you build the deck by yourself or hire a professional to do the job for you? Well this all depends on your confidence in your carpentry skills, the type of deck you want to build, as well as how much you're willing to risk if things don't go as you plan since you will be solely responsible for anything that happens while you're building your deck and long after if any issues come up when you're entertaining your guests. If you want to build a simple deck that is from a pre-designed deck plan and you have average carpentry skills then you can reasonably assume that you can build your deck yourself but don't take the building lightly because you will need to research the materials you use as well as any local codes that are in place regarding deck additions to homes. You can always head down to your local hardware store and ask a store associate for advice on the best material options available.
Do It Yourself With Free-Standing Decks
Free-standing decks are one of the easiest kinds of decks to build with one huge advantage. They don't have to be attached to anything like traditional decks and honestly one of the hardest things about designing a deck is attaching it to the home since this is where lots of things like mold, mildew and dry rot like to form if it isn't secured to the home correctly. You will have to remember even though it isn't attached to your home there are still laws and codes that you will have to check to make sure your deck is not breaking any rules and is within all the right deck dimensions allowed. One disadvantage to free-standing decks is that they will need to have support on each side of the deck which means buying extra support posts.
Pick the Right Tools and Materials
Most homeowners who are considering building their own deck already have a pretty decent repertoire of tools available at their disposal but before you begin you should double check that you have the right tools and materials that you will need specifically for building your deck. Make sure you choose the right decking material and any wood you choose has been pressure-treated since most wood decking warps. You should also look for deck screws that are designed exactly for the decking material you want to use since regular nails can cause certain decking material to splinter and can hold water if it rains and start to rot or develop mold or mildew.
Other materials you will need that you should take into consideration will likely include:
Post caps

. Which come in a variety of styles and can even have lights added to them to brighten up your deck at night.

Railing

. If your deck will be above a certain height off the ground you will be required to have railing.

Steps. If you are required to have railing you will also be required to have steps and there are certain dimension requirements for steps so you should make sure you learn about those as well.

Deck

fasteners

. Instead of having those unseemly looking nails showing you can use

hidden deck fasteners

to hold your decking together without taking away from the beauty of your deck.

And many more. There are tons more materials that are involved with building a deck but just how much and what type of material you need will all depend on how elaborate or simple you want your deck design to be.
Why Should I Hire a Contractor?
Most decks are considered a major home improvement project and something that many will want to last for a long time. While designing a basic deck that you can save money with building yourself sounds good it most likely will not last nearly as long as a professionally build deck would. Having a professional build your deck also takes any liability away from you and puts it on the contractor who should always be insured.
Adding a deck to your home is a big decision to make and a huge commitment since it will be with your for at least 10 years if it was designed and built well so if you are planning on trying to build a deck yourself remember that the simpler the design the better but if you are a little uncomfortable with the idea of taking on such a huge task then you should definitely look into hiring a professional.